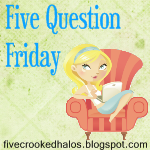 1.
What did you wear to prom? Include a picture if possible.
To my junior prom, I wore a pretty pink dress with diamond beading on the bodice/corset/top.
Me and my date, standing in a river? I look so babyish. Ugh.
To my senior prom, I wanted a purple dress, and I ended up with this one. It wasn't my favorite, but it's what I wore. I was so ready to be out of high school at that point.
Here I am standing in the water my senior year too!
2.
Would you rather be on the biggest loser or a food eating challenge?
Well, I definitely don't need to lose any weight, but I also know I wouldn't be any good at an eating challenge. I am going to go with the Biggest Loser because it would teach me how to eat healthier (an area where I seriously slack) and get me in an exercising routine. More so than my current daily run.
3. D
one fave sonic drink? Refreshing summer drink? (Hey, Kristina...was that a typo, or some "done good" Southern thing?)
Sweet. Tea.
I don't care where it's from, just as long as it's sweet.
4.
What was your first car, and what did you call it?
Other than Mom's green van, I had a lime green bug my senior year and 7 years after that. "She" was called 'the bug'. Nothing fancy.
5.
What's one thing your child or spouse does that sends you over the edge?
Currently don't have either. :(